Bare Knuckle 3.0 FXR/FLT Swingarm Bearing Conversion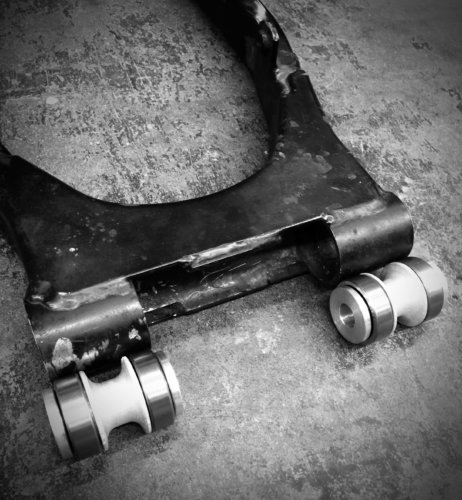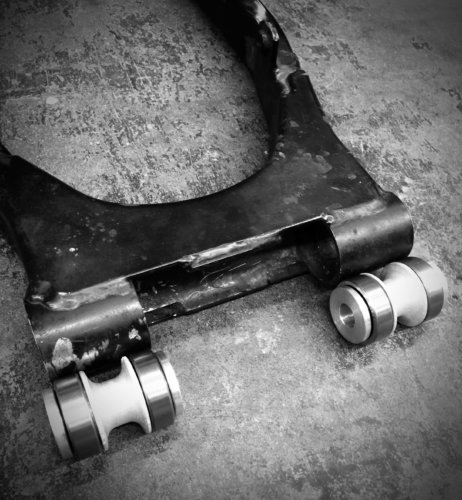 Bare Knuckle 3.0 FXR/FLT Swingarm Bearing Conversion
SUPERIOR CRAFTMANSHIP…MADE IN THE USA !!!
We are PROUD to continue our mission to Support Independent Small Businesses who manufacture Top Quality Parts here in the USA!
Bare Knuckle Choppers 3.0 FXR/FLT Swingarm Bearing Conversion Kits fit FXR and FLT touring models from 1980-2001.
After much research and testing, Bare Knuckle Choppers finally has the best FXR swingarm bearing conversion kit available! Using sealed BALL BEARINGS, a unique spacing kit, and Your OEM Pivot Shaft (Pivot Shaft Pictured But NOT included)… you can ditch the old Cleve block system and install this 100% Made in USA solution.
This is the ONLY kit that will give you OVER 10,000 LBS of Dynamic Load Rating and 4,000 LBS of Static Load Rating, Eliminates Stiction (the friction that tends to prevent stationary surfaces from being set in motion.), allowing you FULL utilization of Performance Suspension, as well as Termination of "Rear Stear" and also Eliminates the need for Service and Seal Issues!
Comes Spacers, Sealed Bearings, and Installation Instructions OR you can…
CLICK HERE for INSTALLATION INSTRUCTIONS for Swingarm Conversion Kit 3.0
When in doubt… DO NOT FORGET to replace your Swing Arm Bushings and Pivot Shaft… Available on our site!